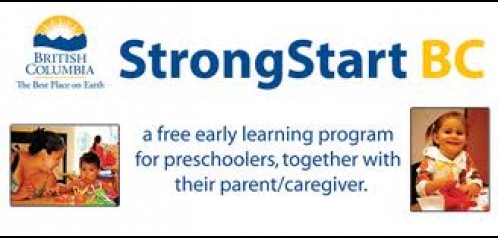 StrongStart Hours
8:30 - 11:30 a.m.   Monday - Friday
WELCOME!  
StrongStart BC early learning programs provide school-based early learning services for adults and their young children, aged birth to five, at no cost to families. Both children and adults can benefit from StrongStart BC early learning programs – children have access to high-quality learning environments and benefit from social interactions while the adults who accompany them learn new ways to support learning, both at the program and at home.
Qualified early childhood educators lead learning activities, including stories, music and art to help children get ready for success in kindergarten.
Parents and caregivers attending StrongStart BC programs can expect to participate in organized sessions like story time, in play activities, and in serving a healthy snack.
Parents and caregivers are likely to discover new ways to support their children's learning at home, and may make valuable connections with others attending the program.
Two types of StrongStart BC programs are available: StrongStart BC Early Learning Centres and StrongStart BC Early Learning Outreach Programs.
StrongStart BC Early Learning Centres are located in school facilities and operate five days per week, for a minimum of three hours per day.
StrongStart BC Outreach Programs provide quality early learning experiences for children in rural and remote communities. Outreach programs operate on a reduced schedule, to accommodate the many remote locations it serves.
The Province has offered all of B.C.'s 60 school districts the opportunity to participate in the program and almost all are taking advantage.
StrongStart BC programs are located in school facilities and fulfill government's election platform and throne speech commitment to use underutilized school spaces to deliver early learning services.
StrongStart Registration:  Please click HERE for the StrongStart Registration and Regulations
StrongStart hours are 8:30 - 11:30 a.m. daily.  It is a drop-in program but there is a limited amount of people that can be in the room at one time.  The maximum is 16 people and at that point the class will be considered full and you may try again the following day. 
It is a drop-in program and is filled on a first-come, first-served basis.